Word games are the ultimate back-up plan for teachers.  As far as classroom must-haves go, they rank right up there with a timer and sticky notes.  Due to their inherent versatility, word games can be used for early finishers, class competitions, or independent work when quiet time is needed.  Using holiday word games in the classroom is a festive way to celebrate while remaining focused on language and literacy.  The three printable word games below are aligned with St. Patrick's Day vocabulary and make for a fun way to focus on the special day!
St. Patrick's Day A-Z
A-Z is a word game that requires students to think of a word related to St. Patrick's Day for each letter of the alphabet.  This game is unique because students are given the chance to showcase their creativity.  They also have to tap into higher levels of thinking in order to connect the letters of the alphabet to something related to the holiday.  Problem solving is another skill that is reinforced with a game like A-Z.  Students need to stretch their thinking in order to come up with new and different words related to St. Patrick's Day.  In addition to problem solving and creativity, students will also be strengthening their attention span.  Concentration is a common requirement for most word games, making learning fun and beneficial at the same time.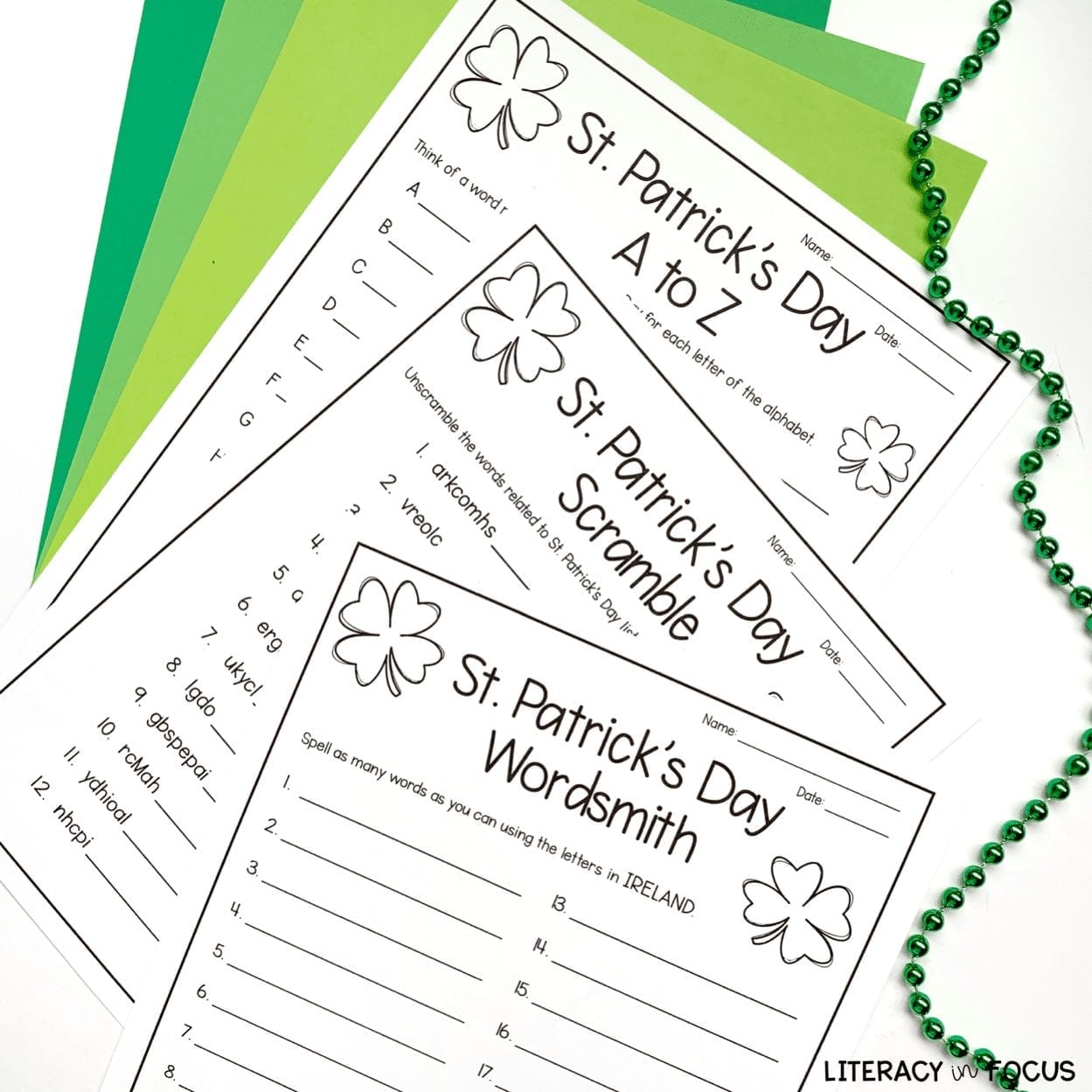 St. Patrick's Day Word Scramble
The tried and true word scramble is a game that will be familiar to most students.  Word scrambles focus primarily on spelling skills, making them extremely useful for learning new words.  Most words related to St. Patrick's Day will fall into the tier-three category.  Tier-three terms are content specific, meaning they are limited to narrow knowledge domains. Generally, tier-three terms have a low-frequency of use, and are more commonly encountered in informational text.  Most of the words related to St. Patrick's Day, for example, are considered tier-three terms because they don't fall under the umbrellas of basic or academic terms.  Ideally, the holiday word scramble walks the line of challenging and fun.  The following St. Patrick's Day word list is challenging enough to be considered fun, but easy enough to avoid frustration.
shamrock
clover
leprechaun
rainbow
Ireland
green
lucky
gold
bagpipes
March
holiday
pinch
Click here to download three FREE printable St. Patrick's Day Word Games from Literacy in Focus on TpT
St. Patrick's Day Wordsmith
The St. Patrick's Day wordsmith game requires students to spell as many words as they can using the letters in Ireland.  Manipulating the letters to form new words strengthens cognitive abilities and overall literacy skills.  Word work provides students with opportunities to investigate and understand the patterns in words, making possible independent discoveries that will reinforce meanings and application.  Word games give students a chance to explore and play with language in a low-stakes environment.  As for St. Patrick's Day, or any other holiday, there are dozens of different words that can be substituted for the word-in-a-word focus term.
In addition to celebrating a holiday, there are many benefits to utilizing word games in the classroom.  Word games have the potential to enhance and improve the following skills and behaviors in students:
concentration
problem-solving
productivity
social interactions
creativity
critical thinking
reasoning
spelling
memory
Along with skills and behaviors listed above, word games are fun! They also work well in combination with additional holiday activities like reading comprehension activities.  Click here to read more about four different St. Patrick's Day reading comprehension activities that you can create yourself!
Whether it's a friendly class competition or an independent assignment for early finishers, word games will add variety to the school day while highlighting the current holiday.
Click here to download three FREE printable St. Patrick's Day Word Games from Literacy in Focus on TpT